Dear Eagles!  Are you excited about going back to school?  With a theme of "Back to School," this week's stories and activities will help you prepare for having the best school year ever!  I can't wait to see you in Shanghai in a few weeks.  Until then, please enjoy our final installment in PXES' Summer Reading program!
---
1.  Introduction:  Back to School with BrainPop
BrainPop has put together some excellent segments on returning to school during stressful and complicated times.  BrainPop also offers wonderful background information about beginning school for Kindergarten children.  You can locate those resources by:
Logging on to our PXES Library Guide Home Page
Choose Brain Pop Jr. for PreK- Grade 3 students.  Then search for "School" or "Kindergarten."
Choose Brain Pop for Grades 4-5.  Choose "Back to School."
In case you need them:  Username – sas1912 and Password – eagles#1
2.  Train Your Brain:  Our digital magazines have some exciting back-to-school themed articles, games, and features.  Check these out!
Highlights Magazine, September 2020 (Early Elementary)
4 Reasons to Celebrate Back-to-School (p. 2)
Train Your Brain for School (p. 22-25)
Picture Puzzler: Identify School Supplies (p. 43)
Owl, September 2020 (Middle to Upper Elementary)
Set yourself up for Back-to-School success with the tips in "All the Feels" on pages 12-15.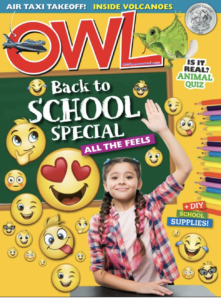 National Geographic Kids, September 2020 (Everyone!)
Animal Geniuses, p. 14-19
Brainy Questions, p. 20-23
Access our digital magazines by going to the PXES Library Guide home page, linked above.  Click on one of the magazines tabs at the top of the page and choose your magazine.  You will be taken to Flipster, our digital magazine provider.  The username and password are the same as in #1, above.
3.  Think Positive Thoughts and Try, Try, Try!  Sometimes a new school year can feel a little bit scary.  Expectations are high for children, parents, and teachers.  Enjoy this sweet classic, The Little Engine That Could by Watty Piper.  Talk about how the blue engine was very small, but determined!  (Suitable for all ages.)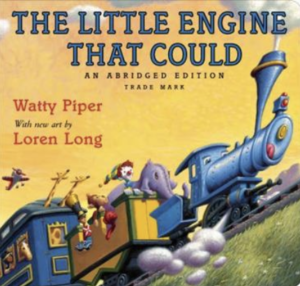 4.  Read About Schools:  Using our Tumblebooks and Sora subscriptions linked from the PXES Library Guide Home Page, read some wonderful Back-to-School stories.
Tumblebooks (PreK-Early Elementary):
Boomer Goes to School by

Constance McGeorge

 and 

Mary Whyte

Clark the Shark by Bruce Hale and Guy Francis
First Day Jitters by Julie Danneberg and Judy Love
Username:  sas1912  Password:  eagles
Sora (Younger Readers):
The Berenstain Bears and the Homework Hassle by Stan and Jan Berenstain
Franklin Goes to School by Paulette Bourgeouis and Brenda Clark
The Berenstain Bears Go To School by Stan and Jan Berenstain
Sora (Older Readers):
Wayside School (series) by Louis Sachar
Scary School (series) by Derek the Ghost
My Weird School (series) by Dan Gutman and Jim Paillot
Third Grade Angels by Jerry Spinelli
Fish in a Tree by Linda Mullaly Hunt.  Highly recommended!
The View from Saturday by E.L. Konigsberg  Very challenging, but also highly recommended!
Ungifted by Gordon Korman
5.  Back to School Arts & Crafts Challenge:  One of the symbols of going back to school is an apple.  Many years ago, before teachers earned salaries, students would often bring apples or potatoes to pay teachers for their services.  Here are a few instructions for a quick, 15-minute craft.  With a bit of paper and a few simple supplies, you can create your very own Back-to-School apple!
Instructions:  Easy Paper Strip Apple Craft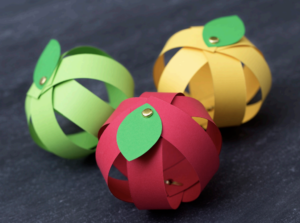 Source:  Fireflies and Mudpies: Simple Crafts and Play for Kids
6.  Back to School Writing Challenge:  As you and your children think about the new school year, it is encouraging to consider all of the growth that will happen.  In addition to academic growth in school subjects, students also grow in their social and emotional learning through friendships and shared classroom experiences.  Make a few predictions about the new school year.  To make this more fun, use the crystal ball handout and pretend that you can tell the future!
Samples predictions about the future school year:
I will make a new friend if I . . . . .
I will learn to write more Chinese characters if I . . . .
I will have fun at recess if I . . . .
I will feel healthy and strong all year if I . . . .
I can enjoy my lessons if I . . . .
I can make something wonderful in the Tinker Lab if I . . . .
7.  Going Further:  As you consider all that the next school year will bring, here are a few additional topics you may wish to consider.  
PreK-Grade 2: My Teacher is a Monster (No, I am Not!)  by Peter Brown.  Listen to this short story, then talk about how students and teachers work together to make the classroom a happy and productive place.  What do students want and expect from teachers?  What do teachers need and expect from students?  My Teacher is a Monster (No, I Am Not!) will help you find out!
Grades 3-5:  Separate is Never Equal: Sylvia Mendez and Her Family's Fight for Desegregation by Duncan Tonatiuh.  The first of the U.S. states to end segregation based on race was California.  That change was the direct result of a lawsuit filed on behalf of Mexican American children by their parents after many years of unfair, discriminatory practices. Find out what happened and why these brave families fought so hard for equal access to education.  This conversation is especially timely in the United States given increased focus on equity and justice.
The Personal Touch!
Please remember to adapt these suggestions to best fit your own children's interests, home language, and resources.  I hope that you have enjoyed our summer of exploration together.
Your Friend in the Library, Miss Betty