Greetings, Eagles!  Welcome to Summer Reading Week 6.  The holiday is zipping by, but I hope that you remember to read and create every day!  Summer can be an amazing time of personal growth and exploration.  So, let's get going with our theme this week of

"Animals!"
---
 

Introduction:

  Last week you tried DKFindOut.  DKFindOut is an incredible web site, free for everyone, with high quality non-fiction content and phenomenal visuals.  This week, to get everyone thinking about animals, do a little exploring here:  DK Find Out Animals
Why do woodpeckers drum holes in trees? (Look in Birds)
What does a honey badger look like? (Look in Badgers)
How many humps does a Bactrian Camel have? (Look in Camels)
For a bit of extra fun, and to experience what it might be like to be a bird, soar above the Orkney Islands with this Sea Eagle in a coastal flight.  Marra, a sea eagle from Elite Falconry, in flight!  Video Credits:  Elite Falconry of Fife, Scotland.
2.  Now that we're all thinking about animals, let's do some animal-themed reading.  
Begin with National Geographic Kids.  Start on our PXES Library Guide home page, linked here: PXES Library Guide Home Page.  Choose either the "Early Elementary Magazines" or the "Upper Elementary Magazines" tab.  Click on National Geographic Kids. (Note: If you are accessing magazines for the first time, you may be prompted for a password.  The Username is:  sas1912  and the Password is: eagles#1).  Magazines are found on Flipster and you can add a Flipster app to your mobile devices if you like.  Search for National Geographic Kids and then choose:

August 2020:  "Sea Pups.  How do sea lions act like dogs?"
May 2020:  "Koala Rescue:  Why do people sometimes have to rescue koalas?"
March 2019:  "Gorilla Talk: What are five ways that gorillas communicate?"
SORA, our digital lending library, also has some fabulous titles to complement this week's animals theme.  Log on to SORA using your student or parent ID and look for these titles:
PreK-Grade 2:
On Kiki's Reef by Carol L. Malnor and Trina L. Hunner
They All Saw a Cat by Brendan Wenzel
Bear Came Along by by Richard T. Morris and LeUyen Pham
Duck & Goose (series) by Tad Hills
Rocket (series) by Tad Hills
Grade 2-4:
Dog Heroes by Mary Pope Osborne
Manatees by Precious McKenzie
Charlotte's Web by E.B. White
Mr. Popper's Penguins by Richard Atwater
The Frightened Kitten and other titles by Holly Webb
Grades 4+
An Elephant in the Garden by Michael Morpurgo
The Dancing Bear by Michael Morpurgo
The One and Only Ivan by Kate DiCamillo
Because of Winn Dixie by Kate DiCamillo
Marley by John Grogan
Note, when reading from the SORA library, only one user at a time may access the material.  After you read the book, please return it early so that others can have a look at the same title. Thanks!
3. Play Games / Compare Animals:
To play animal-themed educational games:
Start on our PXES Library Guide home page, linked here: PXES Library Guide Home Page
Choose World Book
Choose World Book Kids
Choose "Play Games" from the menu at the bottom.
Click on the "Subject" tab, then on the "Animal" button.
Play Creature Challenge, No Place Like Home, or Name That Baby Animal.  If you miss some of the questions, use WorldBook to find out more!
For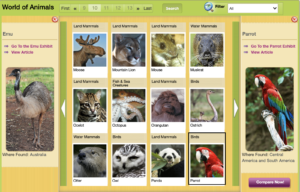 older students, use the "Compare Animals" tool.  This is an exciting way to see which of two animals is the biggest, has the longest life, has more newborns at a time, or lives in larger groups.  You can compare similar animals, like two birds.  Or, you can compare animals that are nothing alike, like a boa constrictor and a goose!  Which two will you choose?
To play "Compare Animals":
Click on World Book Kids to return to the home page.
Choose "World of Animals" from the menu at the bottom of the screen.
In the center of the screen is a big, green button, "Compare All Animals."  Click on it.
Choose your first animal by scrolling or searching through the animal options.  It will autofill on the left under "#1."  Then, follow the same process to choose a second animal.  Your second choice will autofill on the right under "#2."
Click on the dark purple button "Compare Now" and view your results!
4.  The Koko Project:  Do you think that humans can talk to animals? Could an animal talk back?  The most famous attempt at interspecies communication began in 1972 with a researcher named Dr. Francine (Penny) Patterson and a baby lowland gorilla named Koko.  Koko lived a very long life and passed away in 2018. But, for over 40 years, Koko helped humans learn how to communicate with animals.  Maybe you would like to read about Koko in your own language.
All students:  Watch this video to gain an overview to The Koko Project.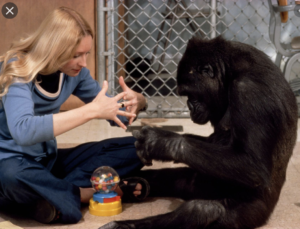 Students and families who want a bigger challenge can read more about interspecies communication here:  The Gorilla Foundation: Communication
5. Project Idea / Guess the Animal Game:  Start on the PXES Library Guide Home Page, linked above.  Using PebbleGo Animals as a fact source, write four clues for several animals.  Put your clues on index cards.  Assembly at least five cards, then play "Guess the Animal" with your family.  Can you trick them??  Here is an example: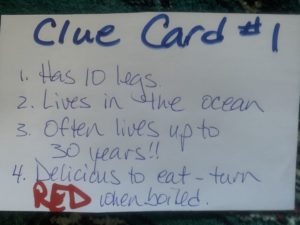 Has 10 legs
Lives in the ocean
Often live up to 30 years
Delicious to eat – they turn red when boiled
Guess the Animal!!  (Answer:  Lobster)
6.  Write About It:  Diary Entries or Stories from an Animal's Point of View.  This is the most difficult challenge of the week.  The challenge is to write a simple story from the point of view of an animal. 
For example, a story about kittens might begin, "When I was born, I could not open my eyes.  My brothers and sisters and I found our mother by responding to her licks and using our sense of smell.  I like to climb and I've discovered t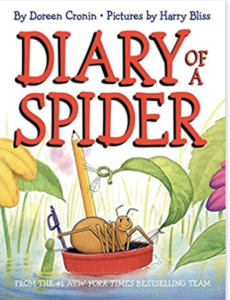 hat I have claws!"
Use what you know – there is no need to do research.  But, if you like, you can use some of the facts you learned through your reading.
For three excellent examples of 1st person animal stories, use Tumblebooks.  Start on the PXES Library Guide Home Page, linked above. Choose Tumblebooks.  Username:  sas1912 and Password: eagles.  Search for:
Diary of a Spider by Doreen Cronin
Diary of a Worm by Doreen Cronin
Diary of a Fly by Doreen Cronin
7.  Craft: Choose one of these crafts to enjoy or share with a friend.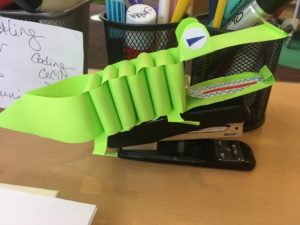 Please Remember:  Always adapt these activities to your own resources, languages, and children's interests.  I hope that you enjoy our sixth week's "Animal" theme.
Your Friend in the Library, Miss Betty