H-E-L-L-O Eagles!  Welcome to Summer Reading Week 7.  This week is extra wonderful because we have another amazing visitor.  He took time away from his studio to be with us and I am excited to introduce you to him.

 We'll get to meet several artists, but one of them we will meet in person because he made a special recording just for you.  Others we will meet in by visiting an exhibition and viewing their most recent work. Ready?  Let's get started:
---
 Introduction:  Lots of kids love to read comics, so I thought you might like to meet a real comic book artist.  I'm delighted to introduce you to Jason Piperberg, a Comic Book Illustrator: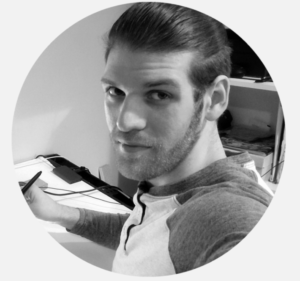 The link above takes you to Jason's professional website, but please listen to Jason talk about art, artists, illustrators, and his specialty work in comics.  Watch Jason's video here: Jason Piperberg, Art, Illustation, & Comics Video
Take a look at Jason's storyboard for Chinese New Year, 2016:  Lays.  The writer scripted the commercial, Jason designed it visually, then the actors and actresses brought it to life.  First, look at the storyboard (the full storyboard can be found on Jason's website), then watch the commercial.  Can you see Jason's conceptual work in the final product?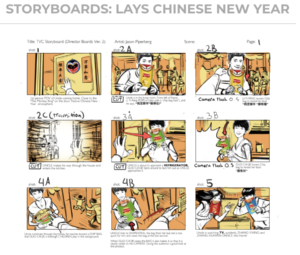 Here is the final 15 second Lays commercial, based on Jason's storyboard:
Here is another example.  This is Jason's partial storyboard for Chinese New Year, 2016:  Pepsi
And here is the final, 15 second Pepsi commercial based on Jason's storyboard,
Pop by the PXES Library anytime to see examples of Jason's work in posters and comics!  Thanks for introducing our "Art" themed week, Jason!
2.  Now that we're all thinking about art, let's do some art-themed reading.  
SORA, our digital lending library, also has some fabulous titles to complement this week's art theme.  Log on to SORA using your student or parent ID and look for these titles:
Everyone, How to Draw:
Learn to Draw Pets by Peter Mueller
Learn to Draw Sea Creatures by Russell Farrell
Learn to Draw Dogs & Puppies with illustrator Diana Fisher
Everyone, Shorter Reads: 
The Noisy Paint Box by Barb Rosenstock and Mary GrandPre (Kandinsky story)
Boys of Steel by Marc Tyler Nobleman (Superman story)
The Art Lesson by Tomie dePaola
The DayGlo Brothers by Chris Barton (Daytime fluorescence, history)
Hedy Lamarr's Double Life by Laurie Wallmark (film star, history)
Grades 3+, Longer Reads:
Jim Henson by Kathleen Krull (Creator of the Muppets)
Who Was Walt Disney? by Whitney Stewart
Who Was Dr. Seuss? by Janet B. Pascal
Who Was Claude Monet? by Ann Waldron
A Single Shard by Linda Sue Park (Historical Fiction, Celadon Pottery)
When reading from the SORA library, only one user at a time may access the material.  After you read the book, please return it early so that others can have a look at the same title. Thanks!
3. Visit an Art Museum:  The Eric Carle Museum of Picture Book Art is widely recognized as being one of the best art museums for children.  Together with Mo Willems (who had the original idea), the museum has put together an exhibit called Art in Place: Social Distancing in the Studio.  In this virtual exhibit, 21 leading children's illustrators showcase what they have been working on during long stretches of lockdown and isolation.  Take a peek inside their studios, read their words, and learn how important art is for each of us in this difficult time.
4.  Create Your Own "Art Museum":  Help your children create a mini art museum of their own!  Use your digital device to take photos of pieces of art at home.  Look for paintings, sculpture, textiles, jewelry, mixed media, Crayon masterpieces, fashion, and even graphics from advertising or packaging!  Remember what Jason taught us – art is all around us.  
Using your photos, create a little slide show, Power Point, or collage.  Below is an example I made to show the children.  I used PicCollage, a free app, to combine my photos into a single image.  If you don't have PicCollage, use whatever you have at hand.  Children love to show off their work, so a mini-museum full of your student's own projects could also be a fun idea!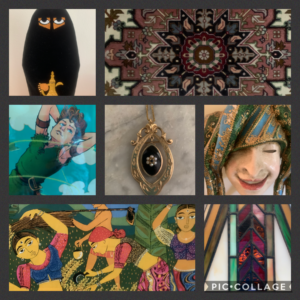 5.  Play Art Games:  
Grades 3+ (This is very challenging!):  Do you remember FreeRice, the educational web site that is a collaboration between the United Nations and World Food Programme?  One of the FreeRice games is "Famous Paintings."  See how many you recognize:
FreeRice Famous Paintings Game
Everyone:
Start on our PXES Library Guide home page, linked here: PXES Library Guide Home Page
Choose World Book
Choose World Book Kids
Choose "Play Games" from the menu at the bottom.
Click on the "Game Type" tab.
Choose "Puzzles."
Work some of the puzzles WorldBook Kids offers!  Try the Canyon, Scarlet Macaw, or Thailand Puzzles.  (Note:  You do not need to flip the pieces around.)
6. Complete an Art Project:  World Book Kids also offers suggestions for activities.  If you have supplies at home and want to create an interesting art piece, you could try:
Make Your Own Palette
Shape Pictures
Color Puzzle
To find lists of supplies and instructions, log on to WorldBook Kids using the instructions in Step #6.  Choose "Activities" from the menu at the bottom.  Choose "Doodle and Design" and then you will see cog wheels with each of the above activities listed.  Click on the cog wheel and you will have all the information you need to complete the project.
7.  Brain Pop Jr., Art Topics:  Brain Pop Jr. has some great topics that apply to this week's exploration of "Art."  To access these video segments:
Start on our PXES Library Guide home page, linked here: PXES Library Guide Home Page
Choose Brain Pop, Jr.
If you are prompted for passwords, please use:  Username:  sas1912 Password: eagles#1
Once inside BrainPop Jr, search for these segments:  Elements of Art, Colors, Sculpture, Collage, Taking Photos.
You can also learn more about these specific artists:  Vincent Van Gogh, Ezra Jack Keats (highly recommended), Georgia O'Keefe, Pablo Picasso, and Dr. Seuss.
8.  Write (or Talk) About It: For our writing this week, we'll use an "I See, I Think, I Wonder" routine.  Parents, you will need to show your students a piece of art for this activity.  After examining it, the students will write an "I See, I Think, I Wonder" response.  Here is an example:
Sample Painting: Old Woman and a Boy with Candles by Peter Paul Reubens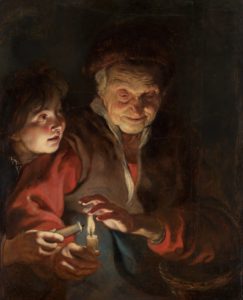 Sample Response (from an Adult):
What do you see?  I see an old woman and a boy.  They are in a dark room sitting close together, the boy is just behind the woman's right shoulder.  The old woman is holding a candle stub and the boy is attempting to light his candle from what is left of her flame.  The old woman holds her candle with one hand and protects the flame with the other hand.
What do you think?  I think that they don't have much light in their home and it is night time.  I think that they have to carefully guard the light so that the candles do not go out.  I think that they are in the same family, perhaps a grandmother and grandson.  And, because they are so close together, I think that they care for each other.
What do you wonder?  I wonder why the artist chose to paint this scene.  Could the light be a symbol?  What do older generations pass to younger generations?  Could the light represent knowledge, wisdom, tradition, language, or culture?  Is sharing the candle's light a sign that precious things, as precious as a candle's flame, can be shared with young people?
Please Remember:  It is best to adapt these activities to your own resources, languages, and children's interests.  I hope that you enjoy our seventh week's "Art" theme.  Thanks again to Jason for being our special guest this week.
Your Friend in the Library, Miss Betty