Greetings, Eagles!  Welcome to Summer Reading Week 8.  Like you, I've been spending a lot of time with my family.  So, I thought it would be a good time to take a look at families in our summer reading program.  What do we love most about our families?  How might families be unique?  What are some great family stories?  If you're ready, let's get started!
---
1.  Introduction:  Fry Bread.  One of the most beautiful family stories in children's literature was recently published in 2019.  Written by debut author Kevin Noble Maillard,  together with illustrator Juana Martinez-Neal, Fry Bread: A Native American Family Story is a must-read for everyone. It's about family, food, and tradition.  By hearing this book, you'll also learn about a new culture.  Listen to SAS' own Ms. Laura Nossal share this book with us:
Fry Bread: A Native American Family Story (Read-Aloud by Ms. Nossal)
2.  Learn About Families: 
Pebble Go Articles for PK-Grade 3:  Start on our PXES Library Guide home page, linked here: PXES Library Guide Home Page Choose PebbleGo.  Log in with Username:  sas1912  Password: eagles#1.  Then, choose PebbleGo Social Studies. Next, choose "Families."  Choose any of the ten topics (pictured below) and discover more about families.  Remember that by using the yellow speaker icon, the articles can be read to you!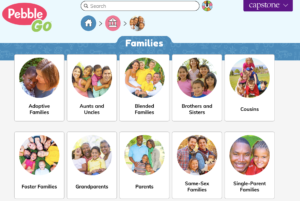 Britannica School Article for Grades 4+: Start on our PXES Library Guide home page, linked here: PXES Library Guide Home Page Choose "Britannica" then choose "Elementary."  If prompted, log in with Username:  sas1912  Password: eagles#1.  Using the search box, enter the key word "family."  You can read the article on "family (kinship)" or any of the other articles that return from your search.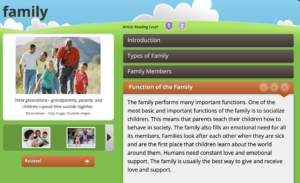 3.  There is a saying that "every story  is a family story."  With that in mind, consider doing some family-themed reading.  
SORA, our digital lending library, also has some fabulous titles to complement this week's art theme.  Log on to SORA using your student or parent ID and look for these titles:
PreK-Grade 2:
Anna & Elsa's Childhood Times by Disney (see all 7 Anna & Elsa titles)
The Berenstain Bears and the Messy Room (see all 6 Berenstain Bears titles)
Are You My Mother? by P.D. Eastman
Grandfather's Journey by Allen Say
Grades 2-4: 
Judy Moody (series) by Megan McDonald
Alvin Ho (series) by Lenore Look
Stink (series) by Megan McDonald
Flat Stanley by Jeff Brown
Tales of a Fourth Grade Nothing by Judy Blume
Sarah, Plain and Tall by Patricia MacLachlan (Historical Fiction)
Grades 4+, Longer Reads:
Louisiana's Way Home by Kate DiCamillo
The Benefits of Being an Octopus by Ann Braden
Sisters by Raina Telgemeier
Merci Suarez Changes Gears by Meg Medina
Far from Fair by Elana K. Arnold
Esperanza Rising by Pam Munoz Ryan
The Fourteenth Goldfish by Jennifer L. Holm
Front Desk by Kelly Yang
In SORA, only one user at a time may access the material.  After you read the book, please return it early so that others can have a look at the same title. Thanks!
4. Write About It:  Your Family Tree.  Did you know that you can organize your family on a family "tree"?  By using a graphic organizer, children can see relationships between family members more easily. 
Below are three family tree graphic organizers that you can try.  Help your children complete the "tree" and talk about your family while you fill in the information.
Basic Family Tree Chart (PK-Grade 2):  Basic Family Tree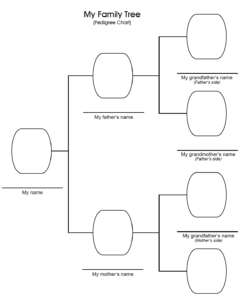 Decorative Family Tree, Child at Top:  Decorative Family Tree
Four Generation Family Group, Child at Bottom:  Four Generation Family Group Chart
After you create a family tree, Interview one or two of your relatives and record their answers.  Or, use technology to create a family interview video.  Families have a lot of interesting stories to share!  How many family stories can you gather?  Consider asking questions such as:
Where did you grow up?
What were your parents like? Your siblings?
What do you remember about your grandparents?
Who were your friends?
What was school like for you?
What did you do for fun when you were a child? When you were a teenager?
What movies and songs did you like when you were young?
How did you meet your spouse?
What important lessons have you learned in your life?
What did you learn from your family?  What might be the same or different from your own life?
6.  Authors who write about families:
Cynthia Ryant:  Using Brain Pop Jr., search for and watch the "Cynthia Rylant" segment.  Find out why Cynthia often writes about families. Start on the PXES Library Guide Home Page linked above, and look for the "Brain Pop Jr." icon.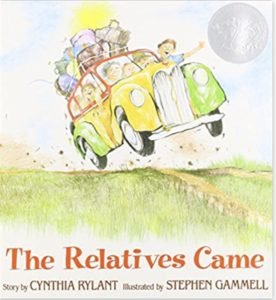 Grace Lin: Author and illustrator Grace Lin considers family so important, that she tells her readers all about her own family on her web site!  Why did Grace raise money for cancer research?  What funny stories do Grace and her sisters tell about their mother?  What amazing books has Grace written about Chinese children? Find out here:  Grace Lin, Author, Family and Books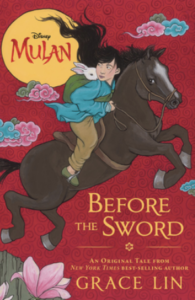 Allen Say:  Allen Say is a Japanese American author and illustrator.  His book, Grandfather's Journey, is a story about his family that won the Caldecott Medal!  Using his publisher's website, look at the covers to Mr. Say's books.  How many of these do you think are family stories?  Allen Say Author Page (Houghton Mifflin Harcourt)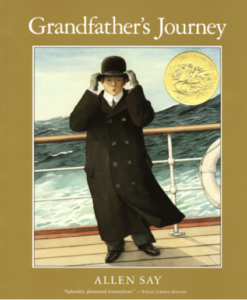 David Shannon:  David Shannon is a grown-up who writes a lot of stories about himself as a child.   How many of his amazing stories do you know?  Could you write a story like "No, David!!" but using yourself as the main character?  David Shannon Books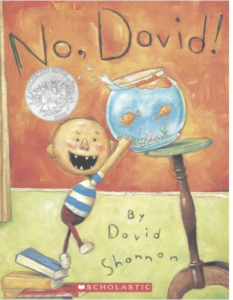 7. Family Traditions and Going Further:  Many families have traditions that center around births, baptisms, birthdays, weddings, holidays, graduations, harvest festivals, and historic events.  What does your family celebrate?  Find an article or story in your mother tongue that celebrates a family tradition.    
To go further, use our Britannica Image Quest Database, available from the PXES Library Guide Home page linked in #2.  Search for special family events, like "birthday" or "wedding."  What do these events look like in your own culture?  In neighboring cultures?  Here is an example of a beautiful image of a family wedding that can be found using Britannica's Image Quest: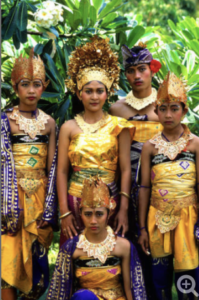 Some people are interested in famous families, or parts of the world that still maintain royal families.  If your child is interested in royal families, kings, or queens, you could consider starting here:  Queen Elizabeth II of the United Kingdom of Great Britain and Northern Ireland
Always Adapt!
I mention this every week, but please remember that it is best to adapt these activities to your own resources, languages, and children's interests.  I hope that you enjoy our eighth week's "Family" theme.
Your Friend in the Library, Miss Betty